I have spent the last two months recording on my houseboat with whatever gear I have and did not want to embark on this journey without some help. So, I picked up a copy of "Recording Tips for Engineers" by Tim Crich. I had learnt the hard way that a good recording begins at the source and that no magical software plugin will fix everything.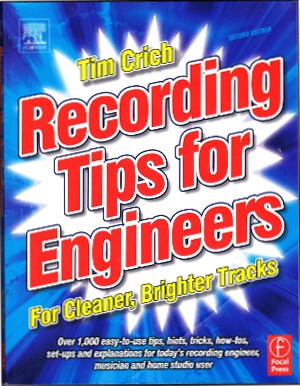 And this is exactly what this book is about: helping you get a good sound at the source. It teaches you about the big and small details: from organizing a session to microphone placement and equalization, you will learn how to record a whole band. I also found it useful at the mixing and mastering stage and there is a good section about the intricacies of digital sound.
Written in bullet point form, it is easy to follow and can be used as a reference, it does not have to be read back to back. Icing on the cake, Tim Crich has worked with little garage bands such as U2 and the Rolling Stones and some of his rock'n roll stories are pretty funny.
I will tell you more about the recordings in the coming weeks and what I have learnt by "doing".
This post is also available in: French