My recording setup comprises of a Boss Micro-BR for quick and simple recordings and a 2008 MacBook Pro running Cubase 5 and fed by an Edirol FA-66. Depending on the need (and the time of day 😉 ), I record my guitar(s) direct to the recorder using a Marshall JMP-1 Preamp or I use a 1974 Silverface Fender Champ miked by a good old Shure SM-57. I also occasionally record direct using a first generation Line 6 Pod.
I am a pedal freak and my collection has grown to about 40 pedals and various effect devices. My current pedalboard looks like this: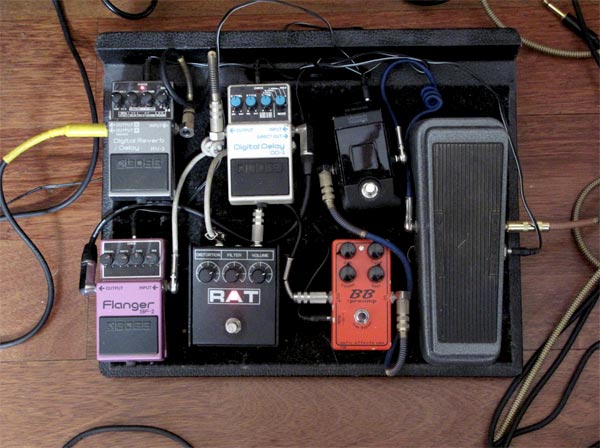 My gear as of January 2017 (in a totally random order). I have somehow culled my pedal hoard but there is still a lot left.
Pedals:
Ibanez TS9 modified by Analogman
Proco RAT 2 (serial number < 300 000)
MXR Phase 90 Block (made in the early 80s)
Boss BF-2 MIJ
Ibanez SM-9
Boss DD-3
Boss RV-3
Boss CE-2 (sold)
Boss CH-1 (analog)
Marshall Shredmaster
Marshall Bluesbreaker (first model)
Marshall Drivemaster (sold)
Marshall Jackhammer (sold)
Boss DS-1
Boss DS-1 modified by Analogman
Boss DS-1 modified by Robert Keeley (sold)
Boss DS-2 Turbo Distortion (sold)
Boss TR-2 Tremolo (sold)
Boss SD-1
Boss BD-2 modified by Robert Keeley (traded)
FoxRox Electronics Captain Coconut 2
Vox V830 Distortion/Booster
Ibanez TS-5
Boss LS-2
Boss HM-2
MXR Dynacomp (made in 1995)
Morley Pro Wah
RMC 1 Wah
Korg Pitch Black Tuner
Electro-Harmonix Knock-out (sold)
Electro-Harmonix Big Muff Pi reissue (sold)
Xotic BB Preamp (sold)
Digitech Bad Monkey (sold)
Boss FZ-2 (sold)
Danelectro French Toast Fuzz/Octaver
Boss CS-3 compressor modified by Monte Allum (sold)
Boss PH-2 Super Phaser (sold)
Boss CE-3 Chorus (sold)
Boss RC-30 Looper (sold)
TC Electronic Flashback Delay X4 (sold)
TC Electronic Flashback Delay (sold)
ZVex Fuzz Factory (sold)
Buffalo FX Germanium Fuzz
Buffalo FX Silicon Fuzz
Boss GE-7 (sold)
Eventide H9
Wampler Pinnacle
Moniker Guitar Hype Box
CodTone Civil War (Big Muff Clone)
T-REX Mudhoney
Boss DM-3
Sansamp British V2
Electro Harmonix Bad Stone Phaser (original)
Rack effects:
Marshall JMP-1 Preamp (very useful to record "direct") (sold)
Peavey Valverb (sold)
Zoom 9150 "Valve DSP" multieffects (sold)
Korg SDD-1000 Delay (Broken)
Various:
Line 6 Pod (very first version, bought in 1999)
Cioks Big John Power Supply
Gator Pedal Board (Pedal Tote with Power Supply)
Amps:
1974 Fender Champ
Vox AC-30 (really old)
Guitars:
1997 Fender American Classics Stratocaster with Kinman Pickups
1978 Fender Telecaster (stock Pickups)
1999 Gibson SG 61 Reissue (Stock Pickups)
Handmade custom guitar by Robin Bully (equipped with Schaller Pickups)
Maton EM225C Acoustic Guitar
Line 6 Variax
Yamaha RB270 Bass Guitar