Category Archives: Dicontinued Greats
Discontinued greats are effects that are no longer made but that have gathered a following (and might be quite valuable on the second hand market now).
Back in the 90s (circa 1993), I had been playing for a few years and had spent all my summer job money on a vintage Vox AC-30. It is truly an amazing amp and still is today but being a one channel non master volume amp, the only way to get some overdrive out of it was to crank it. And believe me, a cranked AC-30 is pretty loud – as in bandmates covering their ears the fist time I did it.
Anyway, I decided to buy a distortion pedal and back in those days there was not the choice we have today, especially in a pre-internet smallish student town in Eastern France. So I went to the local store and the guy said: "we have these new Marshall pedals, pretty cool to get a Marshall tone out of a clean amp". So I bought a Marshall Shredmaster and it was my main distortion pedal for a good 10 years.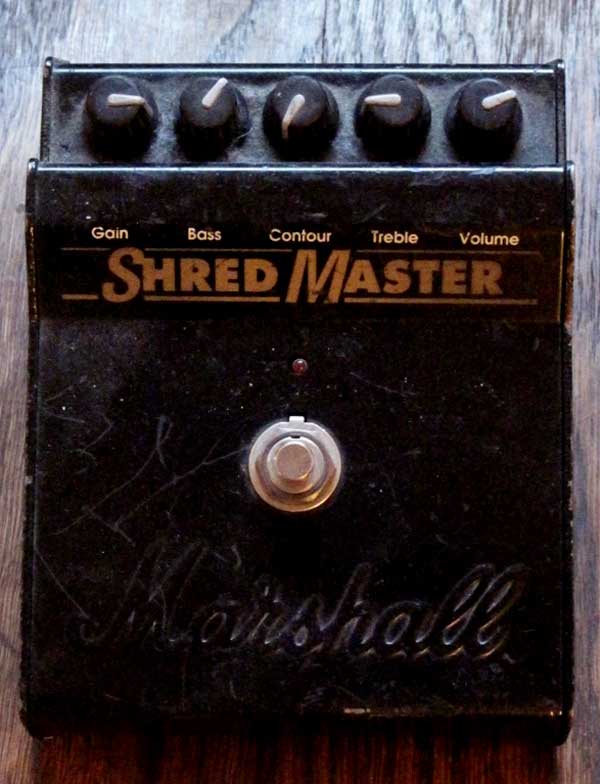 The Shredmaster was not the first pedal Marshall had released. In the 80s, they had one pedal on offering, the "guv'nor" which is still coveted by some players today. In the early 90s, they released three pedals aimed at different publics: the Bluesbreaker, the Drivemaster and the Shredmaster.
The Bluesbreaker was a pretty light overdrive, the Drivemaster was supposed to sound like a Marshall JCM-800 (think classic rock) and the Shredmaster was a high gain pedal. It would not qualify as very high gain nowadays but at the time it was. The Shredmaster has been replaced in the Marshall pedal lineup by a much higher gain model: the jackhammer. As its name indicates, it was aimed at the shredding audience but the most famous guitarists to have used it are not exactly known for shredding, I am talking about Thom Yorke and Jonny Greenwood of Radiohead. Actually, once it was known they were users of the Shredmaster, the prices for the pedal on the second hand market rose considerably.
The Shredmaster has a lot of fans but also a lot of detractors, I know that a lot of guitarists who have tried it or owned it think it does not live up to its reputation. Quite frankly, I think the Shredmaster was truly one of the first "Marshall in a box" pedal: properly setup and plugged in a good tube amp, it really does wonders. Mind you, as I have mentioned earlier, it does not have that much gain depending on your perspective and this is where people get disappointed if they expect a "death metal" kind of tone, although it can probably do it with the right type of guitar and/or a boost.  That said I think it does cover everything from blues to classic rock and 80s shredding alike while retaining a true Marshall color. Moreover, the equalisation section featuring bass, treble and a contour knob to scoop frequency is pretty efficient. It is completed by the classical gain and volume knobs. I find the gain most efficient between 2 o'clock and the maximum setting, the first half is frankly a bit useless. The volume will give you a nice boost but nothing over the top.
I have recorded several videos of the Shredmaster plugged into a little 5 Watt all tube Fender Silverface Champ. It is a fairly bright amp so I had the following settings:
On the Champ: Volume 2.5, Bass 10 Treble 2
On the Shredmaster : Gain 3 o'clock, bass 1 o'clock, contour 8 o'clock (minimum), treble 9 o'clock, volume 2 o'clock
The Shredmaster is plugged directly into the Champ which was miked by a Shure SM-57. The reverb was added in Cubase 5 afterwards and I used the Reverence 3s Plate Reverb setting.
With a Gibson SG 61 Reissue, here is how it sounds:
And with a 1978 Telecaster equipped with stock pickups:
And a last one with the SG that shows a more "classic rock sound":
I have improvised in these videos so pardon the mistakes.
The Shredmaster is not made anymore so you will have to look on the second hand market to find one. You might also want to check the Hellrazor from Pure Analog Effects which is a very reasonably priced Shredmaster clone. There is also word that the distortion side of the  Jekyll and Hyde from Visual Sound has a circuit close to the Shredmaster but I must say that the samples on the vendor's website sound a lot heavier than a Shredmaster so I am not too sure about that.
Whether you find a real one or get a clone, happy shredding!