As a follow up to two posts I wrote about the Reverb effect (see here and here), I thought that a demo of my good old Boss RV-3 was in order.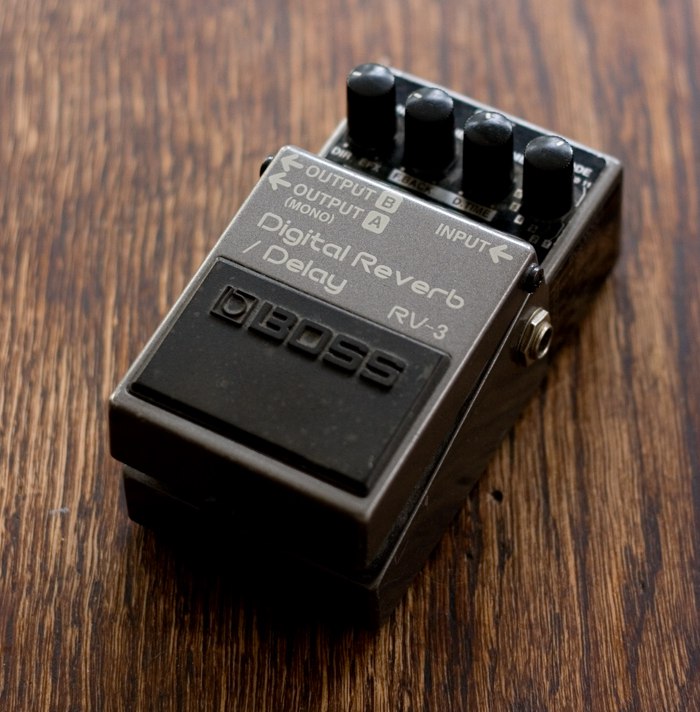 At some stage, you could spot the Boss RV-3 in the pedalboards of acts such as Mike Eizinger (Incubus) or Johnny Greenwood (Radiohead). Made between 1994 and 2002, the RV-3 is quite unique as it combines a digital delay unit and a digital reverb unit. I have included the detailed specs at the end of this post for more information on the different modes.
But before diving into the details, let's hear it in action. I have recorded this video which shows my favorite settings followed by a demo of each of the 11 modes of the RV-3:
My thoughts on the RV-3
The Boss RV-3 is a product of the mid 90s. It doesn't feature any analog delay or spring reverb simulations, this is a pure digital beast. Delays are crystal clear and reverbs are precise (some would say "metallic").
That said, I find that its unique capability (for a compact pedal) to combine delays and reverb provides big "studio quality" guitar tones which can be reminiscent of Jeff Beck's studio sound on his recent albums. It can also go into total spacious ambient territory and can be used with two amps for a stereo setup as it features one input and two outputs.
For all this, the RV-3 is quite underrated and is a great catch on the second hand market, watch out for one. The RV-5, which replaces the RV-3 in the Boss line up, features a spring reverb simulation on top of the digital kinds but does not have the delays of the RV-3. As such, I find hard to compare the two.
Detailed specs
The RV-3 has no less than 11 selectable modes. One knob selects the mode and the other 3 knobs have different functions depending on the chosen mode. In reverb mode, they affect the parameters of the Reverb: tone, time and level. In delay and delay+reverb mode, they affect the feedback (number of repetitions), delay time (time between the repetitions) and the effect level. Note that in delay+reverb mode, you cannot choose the amount of delay and reverb separately, the unique level knob will allow you to blend more or less delay and reverb, put together.
The modes are as follows:
4 Reverbs:
Plate reverb simulation: Hendrix and other late 60s acts were fond of plate reverbs to magnify their tones in the studio. This is quite a big sounding reverb
Hall: big digital reverb simulating the space of a rather large enclosed space
Room 2: a medium-short room reverb which can be used a bit like a spring reverb, knowing that the RV-3 has no spring reverb simulation
Room 1: a short reverb to add just that little bit of ambiance
4 Delay + Reverb modes:
Delay + Plate Reverb
Delay + Hall reverb
Delay + Room 2
Delay + Room 1
3 "pure" delay modes:
Short: 32ms – 125ms (great for slapback echo)
Medium: 125ms – 500ms
Long: 32ms – 1000ms
I have demonstrated all these modes in the video above, enjoy!