BBE are known for their audio hardware and especially their "sonic maximizer" line of professional studio enhancers. But little is known that they also have a range of guitar pedals which they have just turned into plugins for your favorite recording software. The package is named "BBE Stompware" and provides the following recreations of BBE pedals:
Free Fuzz (Vintage '70s Fuzz)
Green Screamer (Vintage Overdrive)
Mind Bender (Dual-mode analog vibrato/chorus)
Opto Stomp (Vintage Optical Compressor)
Sonic Stomp (Sonic Maximizer)
Soul Vibe (Vintage Vibe/Rotary)
Tremor (Vintage Tremolo)
Two Timer (Analog Delay)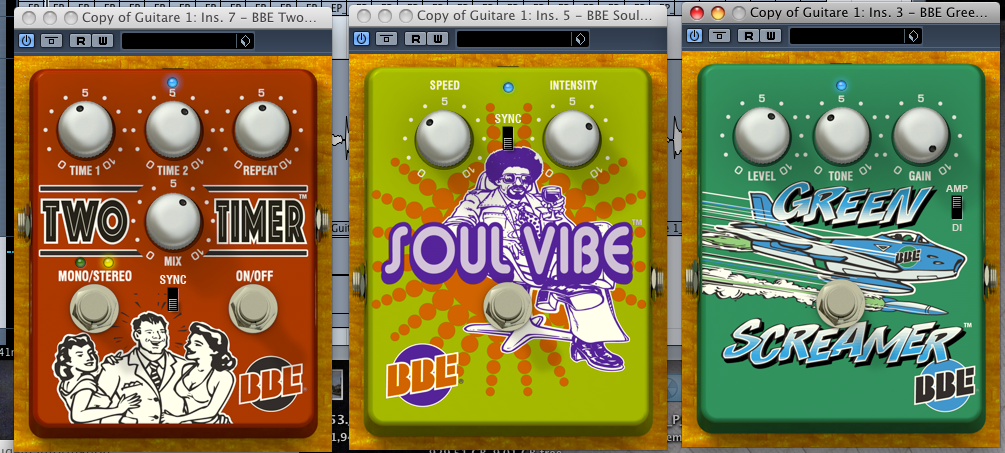 You can use the demo for 15 days without restrictions, I gave it a spin and here is the result using the "Green Screamer", the "Soul Vibe" and the "Two Timer" Analog delay:
I used my Stratocaster plugged directly into the audio interface. The "Free Fuzz" and the "Green Screamer" provide some sort of amp emulation making them sound as if they were plugged into an amp.
After my quick tryout, I can say that I am not too impressed with the overdrive and the fuzz but the other effects sound really good especially the "Soul Vibe" and the "Two Timer" analog delay. Who does not love the really lush modulation of a good univibe clone even if I still think my good old pedals sound better.
You can get the demo or a license for the package for a reasonable $149 from Nomad Factory. Note that you will have to authorize the demo. To do so, after installing the software, you must execute a program named "HardDisk Authorizer" which will give you a challenge. You will have to copy and paste the challenge on http://nomadfactory.com/register/demo_reg.html to receive the actual authorization code that you will have to paste on the bottom window of the "HardDisk Authorizer".